By: Naina Waghray
In the October 2022 issue of the Climate 101, we covered the basics of Scope 1, 2, and 3 emissions classifications, and what each one encompasses here at Rutgers. This month, we will take a deeper look at scope 1 carbon emissions, especially those associated with buildings.  
Scope 1 emissions account for "direct greenhouse emissions that occur from sources that are controlled or owned by an organization". An example of scope 1 carbon emissions could be the emissions released from an airline's planes or from the furnace used to heat a building, as these emissions are coming directly from the organization's facilities and vehicles.  
Many institutions and government organizations have begun to put forth policies which aim to reduce carbon emissions on a state-level. In fact, Governor Murphy recently announced that he has decided to move up his goal of reaching 100% clean electricity by 15 years, from 2050 to 2035.    As of 2019, scope 1 emissions made up 46% of Rutgers' total emissions. In order to reach our goal of carbon neutrality by 2040, rapid changes need to be made each year to cut down on these emissions. According to the Climate Action Plan, Rutgers' scope 1 emissions include combustion of fossil fuels in university-owned buildings, equipment, and vehicles, fugitive emissions from refrigeration, and emissions from on-campus agriculture or livestock husbandry.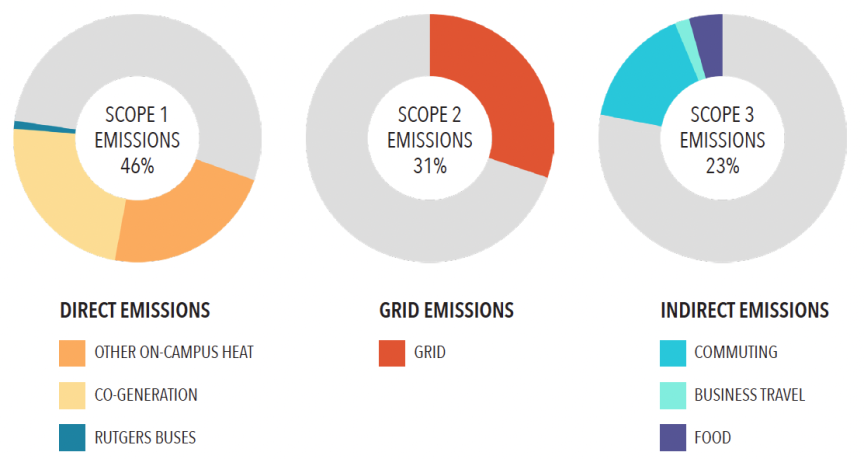 As a university with over 900 buildings across the state, a huge portion of Rutgers' scope 1 emissions are released from operating our buildings. Depending on the campus and building, we have many different heating and electric systems that rely on fossil fuels, ranging from central co-generation plants to individual furnaces. Additionally, many of our buildings are several decades old, and their systems for heating, lighting, ventilation, and air-conditioning are outdated and inefficient. This complexity means we will need a variety of solutions to reduce carbon emissions from our buildings, starting with reducing our energy demand and developing a plan for eliminating gas usage in buildings, also known as degasification.
The Energy and Buildings Climate Action Group (CAG) is leading plans to update existing buildings with more energy efficient systems. This year, through the PSEG Direct Install Program, Rutgers is working to audit over 100 buildings on their energy use. Based on the audit recommendations, they will make energy efficiency upgrades and install new metering, monitoring, and control systems that will allow the university to access current data on energy consumption.
The Land Use and Building Design CAG is taking stock of existing buildings that are not worth retrofitting due to their small size, age, or limited use. These buildings will be sold or decommissioned on a case-by-case basis.  New buildings at Rutgers are already required to be built to LEED Silver standards, and the CAG is working to update new building construction and energy standards to further improve their sustainability.  
Another one of the many changes that the university is making to cut down on scope 1 emissions, is through decarbonizing Rutgers-owned or Rutgers-controlled vehicles and equipment. The university aims to electrify campus buses and other vehicles to reduce related emissions by at least 20% by 2030, and 100% by 2040. In the meantime, NJ Transit has been running pilot electric bus programs in Camden and Newark, providing useful data that will inform Rutgers' EV purchasing and the buildout of charging infrastructure.
As Rutgers moves to electrify our buildings and vehicles, we are also working to ensure that we are using clean energy to power them. Stay tuned for next month's Climate 101 where we will dive into reducing scope 2 emissions and moving towards 24/7 clean electricity.
Sources
https://www.epa.gov/climateleadership/scope-1-and-scope-2-inventory-guidance