By: Katie Parrish
In the September edition of Climate 101, we discussed Rutgers' commitment to achieving carbon neutrality by 2040. The first step in doing this is determining which emissions are attributed to Rutgers and how to track them.
Greenhouse gas accounting uses the concept of 'scopes' to help organizations understand their emissions. There are three scopes, or level of responsibilities, for emissions – Scope 1, Scope 2, and Scope 3.
Rutgers uses these scopes to help define, communicate, and track our emissions goals. How an organization chooses to define which emissions they are responsible for can dramatically change their net-zero calculations.
At Rutgers, we are accounting for all three levels of emissions. Rutgers' greenhouse gas emissions by scope for FY 2019 is shown below.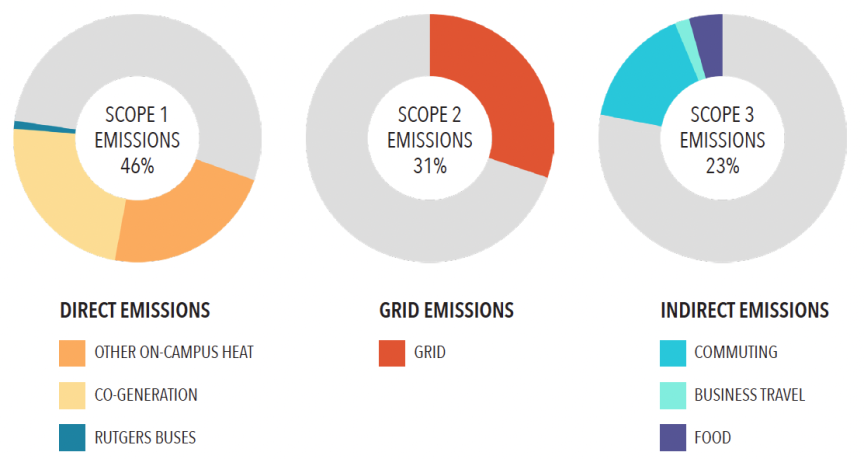 Scope 1

Scope 1 emissions are produced directly by sources that are owned or controlled by Rutgers. Scope 1 emissions include combustion of fossil fuels in university-owned facilities (45% of assessed emissions) or vehicles (1%), fugitive emissions from refrigeration (not yet assessed), and emissions from on-campus agriculture or livestock husbandry (minimal).
The Energy and Buildings Climate Action group is working to measure and reduce emissions associated with existing buildings and facilities through solutions such as energy efficiency and building electrification. The Land Use and Building Design CAG is taking stock of buildings that are not good candidates for these retrofits and planning to decommission them. They will also update new building codes and policies to ensure that future construction does not rely on fossil fuel-based systems. Finally, the Transportation CAG is currently laying the groundwork to electrify Rutgers buses, delivery trucks, and other vehicles.
Scope 2
Scope 2 includes emissions related to the production of the energy that Rutgers purchases from utility companies (31% of assessed emissions). These are emissions from sources that are not owned nor operated by Rutgers, but whose production are directly linked to on-campus electricity consumption and are heavily influenced by state, regional, and federal energy policies and practices.
According to the U.S. Energy Information Administration, in 2020, the majority of electricity in the state (48%) was produced by burning natural gas(methane). Since our state consumes more electricity than it produces, about 11% of our electricity was procured through the regional grid. Luckily, the percentage of electricity produced by clean sources such as wind and solar is on the rise, currently at about 8%. The Murphy administration has committed to achieving 100% clean energy statewide by 2050 in the state Energy Master Plan, and advocates are working to pass legislation that would make this commitment state law.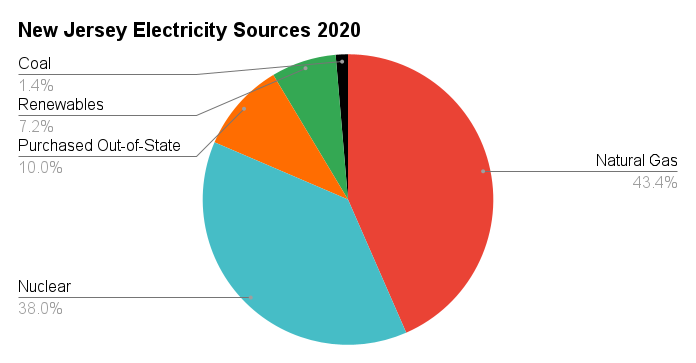 Scope 3
Scope 3 emissions come from sources that are not owned, operated, or controlled by Rutgers, but are either directly financed (e.g., food and product supply chain emissions, commercial air travel paid for by the institution) or are otherwise linked to the campus via influence or encouragement (e.g., air travel for study abroad programs, regular faculty, staff, and student commuting).
Assessed Scope 3 emissions constitute 23% of the overall inventory. So far, we have only been able to assess emissions associated with commuting (17% of total), business travel (2%) and the food supply chain (4%). Future efforts are needed to assess other Scope 3 categories, such as those associated with purchased goods and services other than food, capital goods, waste, and investments.
The Dining Services and Food Vendors CAG is analyzing and reducing emissions from food production and transportation, as well as food waste disposal. In a parallel scope, all other procurement and waste disposal is covered through the Procurement and Waste Management CAG. The Transportation CAG is addressing scope 3 emissions related to commuting, business travel, and study abroad programs. Finally, each chancellor unit has a climate action group working to foster a culture of sustainability on campus. In support of system-level changes, developing a culture of sustainability will help teach and promote climate friendly behaviors that directly reduce scope 3 emissions, as well as inform our communities about the reasoning and importance behind systemic changes to campus life, ranging from thermostat settings to dining hall menus.
Learn More: