By: Naina Waghray
In our last issue of Climate 101, we discussed scope 1 emissions and their significance at Rutgers. In this issue, we will take a deeper look at scope 2 emissions and clean electricity. Put simply, scope 2 emissions are the indirect emissions that are associated with the purchase of electricity or steam for lighting, heating, cooling, etc (EPA).  Unlike scope 1, these emissions are not generated directly by the organization using them (i.e. Rutgers). Some examples include fugitive emissions and emissions from provisioning plants.
One challenge Rutgers, along with many other organizations, faces is defining scope 2 emissions. There is not a universally accepted boundary. Some begin measuring scope 2 emissions at the point of energy generation (i.e. at the power plant itself). Others will include emissions created during the process of acquiring resources for the energy source, such as the process of getting coal for the power plant as scope 2 emissions, while others include this category of emissions in scope 3. Rutgers uses the first method, which is used by most academic institutions and is endorsed by the GHG Protocol. Because scope 2 emissions are based on purchased energy, Rutgers elimination of these emissions is closely linked with how energy is generated in New Jersey.
New Jersey is one of many states that has implemented policies to reduce the state's impact on climate change. On February 15th, Governor Murphy announced that his administration set an accelerated target to reach 100% clean energy by 2035, 15 years earlier than previously planned. In this case, the governor is referring specifically to clean electricity, which will be used to power lights, electric vehicles, electric heat pumps, and more. To achieve net-zero emissions as a state, we will also need to decarbonize our transportation system and our building heating systems, which are addressed under other state targets. Some initiatives outlined in the address include electrifying the state's building sector and ensuring that 100% of new cars sold in 2035 will be zero-emission vehicles converted to other clean systems. This new target requires rapid changes to be made statewide.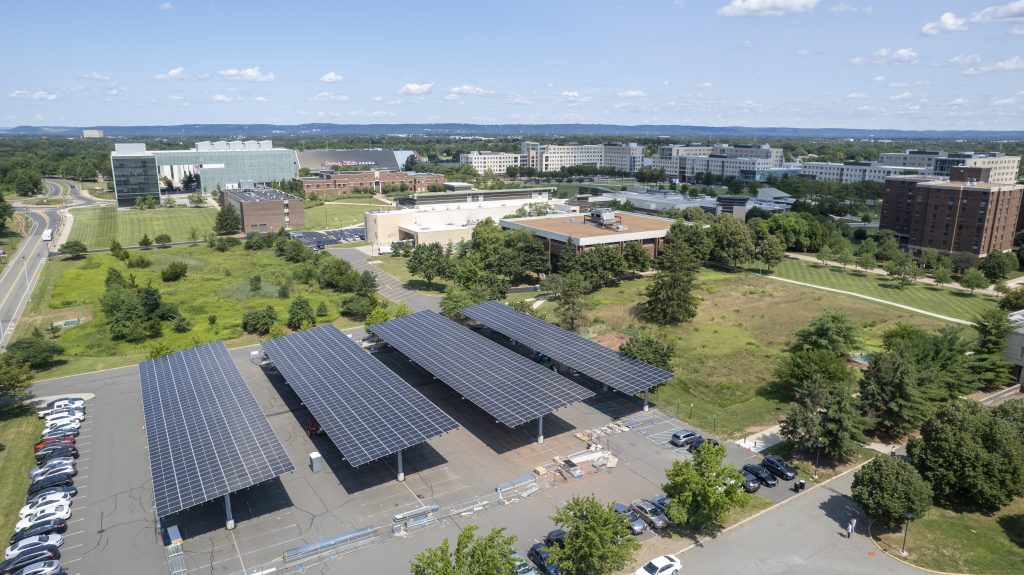 But what is clean energy and how does it factor into emissions accounting? Clean energy is the energy generated from renewable sources which do not release greenhouse gases into the atmosphere while generating energy. Currently, most organizations measure their emissions on an annual basis when calculating progress toward climate goals. This means that as long as net emissions average out to zero over the year, the organization is considered to be carbon neutral. For example, solar energy is becoming more and more commonly used across the state. However, its energy availability is limited to times when the sun is out, meaning nonrenewable sources are required during times of darkness. If an organization offsets those emissions at some point during the accounting year, they have achieved carbon neutrality for the year.
On the other hand, to maximize utilization of clean energy, some organizations, including Rutgers, are aiming for 24/7 clean energy. This means that clean energy will be used every hour of every day. To achieve this goal, organizations must consider options such as expanding energy storage and modulating demand. To help determine a path for Rutgers to achieve 24/7 clean electricity, Professor Mark Rodgers from the Rutgers Business School and his student, Justin Morris, are developing an investment planning model, which will determine which electricity generation technologies the University should invest in over a long-term planning horizon. As part of these efforts, the research team will investigate various scenarios that consider factors such as physical capacity limitations, budget constraints, and demand reduction strategies to achieve 24/7 clean energy at Rutgers.