By: Naina Waghray, OCA Communications Intern, Undergraduate Student, Rutgers—New Brunswick
Rutgers–New Brunswick recently earned a silver rating through AASHE STARS. The Association for the Advancement of Sustainability in Higher Education (AASHE) is an association that was formed to strengthen sustainability efforts on college campuses. The association is well known for its rating system, The Sustainability Tracking, Assessment, and Rating System, better known as STARS. It was created to qualify what an institution is doing to promote sustainability across all sectors, and assign them a corresponding rating. This system is designed for and used by many universities across North America, and especially by those in the US. 

Similar systems exist to measure more specific sustainability metrics at an institution, such as the Planetary Health Report Card, which is used by many medical schools. Leadership in Energy and Environmental Design (LEED), is another example which is specifically used to assess and certify that a building was made according to environmentally responsible construction practices. Overall, each of these rating systems all serve the same purpose of assessing an entity's quality of sustainability practices.
By using such rating systems, we are able to monitor progress and identify areas of improvement in terms of transparency and communication. It is crucial to have this system in place, as it evaluates a company or institution's sustainability strategies and how effective they are. The use of this system also provides incentive for institutions to improve and create a more sustainable community.
AASHE STARS in particular is trustworthy for several reasons, one being that the metrics have been co-developed with AASHE member universities through an extensive and iterative review process. AASHE is also very transparent about their data, and their reports are made publicly available.
AASHE STARS releases updated ratings every 3 years to track an institution's progress. An institution must first self-report their data, which then goes through a review process consisting of an internal review, a peer review, and a final review by AASHE. Ratings are based on credits, which are like points, that are then calculated into a score that translates into four categories: Academics, Engagement, Operations, and Planning & Administration. They are then rated in a tiered system, which includes: Reporter, Bronze, Silver, Gold, and Platinum.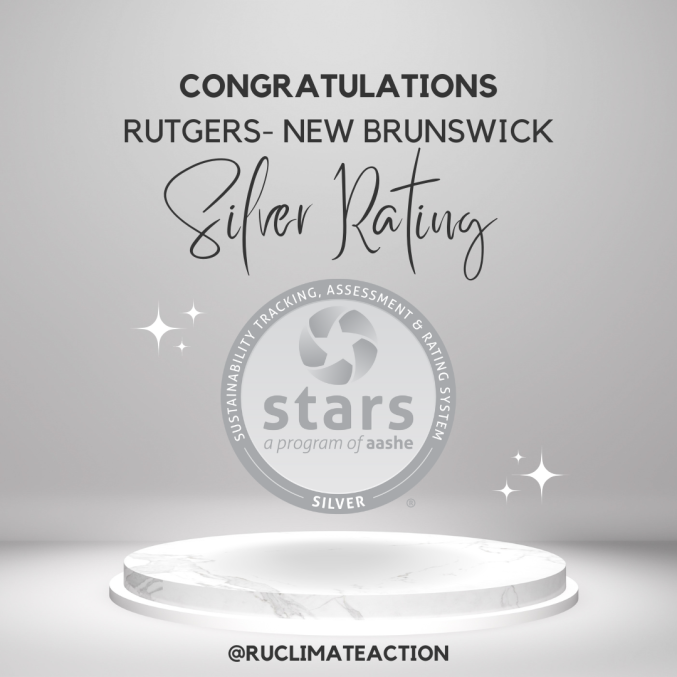 This system covers a wide variety of measurements and tracks things like energy usage, tons of waste produced, sustainability training programs, and social/climate justice involvement. When measuring an institution's STARS rating, AASHE has four main considerations: how well educated the people of the institution are on sustainability, to what extent does the institution contribute to environmental, economic, and social factors, and any other positive impacts which may not be shown through the STARS scoring system.
Thus far, Rutgers University has joined AASHE and has made its first completed submission for the New Brunswick physical campus, which includes Rutgers-New Brunswick and the portions of RBHS located in New Brunswick/Piscataway. Rutgers-New Brunswick achieved a silver rating, and is aiming to improve this rating in future submissions.
Sources: