By Lea Cerini, OCA Communications Intern and Sustainability Ambassador, Undergraduate Student, Rutgers—New Brunswick
What makes a job "green"? There are many careers that can be considered green other than the predictable environmental scientist or solar panel installer. As businesses and governments are beginning to prioritize sustainability within their structures, more specialized jobs are becoming available in the job market. For example, fields ranging from finance to public health now have specializations in sustainability. No matter your major or interests, you can include sustainability as a part of your studies and your career!
Climate change and the response to its impacts will undoubtedly shape the job market from small towns to a national level. According to the NJ Council on the Green Economy, New Jersey is expected to see growth in the industries of construction, engineering, legal, architectural, consulting, manufacturing and more, as there has been increasing investment in green energy. Through a global and national lens, the effects of climate change have made a profound impact in the finance and business world. More corporations are considering their environmental impacts and hiring for positions such as Chief Sustainability Officer, Chief Resilience Officer, and Director of Sustainability. Forbes recently reported that the number of CSOs holding an executive level position increased from 9% in 2016 to 28% in 2021. Climate change requires every sector of the economy to consider their impact on the Earth.
On the consumer end, more buyers are choosing to support companies with clear and active environmental and social missions. While this increase in demand has pushed some companies to improve their practices, others have resorted to a deceitful tactic known as "greenwashing". Some companies may market their mission in a false light by over exaggerating their commitment to the environment. When job searching, you can determine the intention of a business by reading their Environmental Social Governance report (ESG) or an equivalent report. If a company does not have a report online for the public's review and comment, it is likely sustainability is not a true priority.
The Green Job Identification chart is a helpful resource to understand the purpose of green jobs and identify up and coming industries within the five green sectors.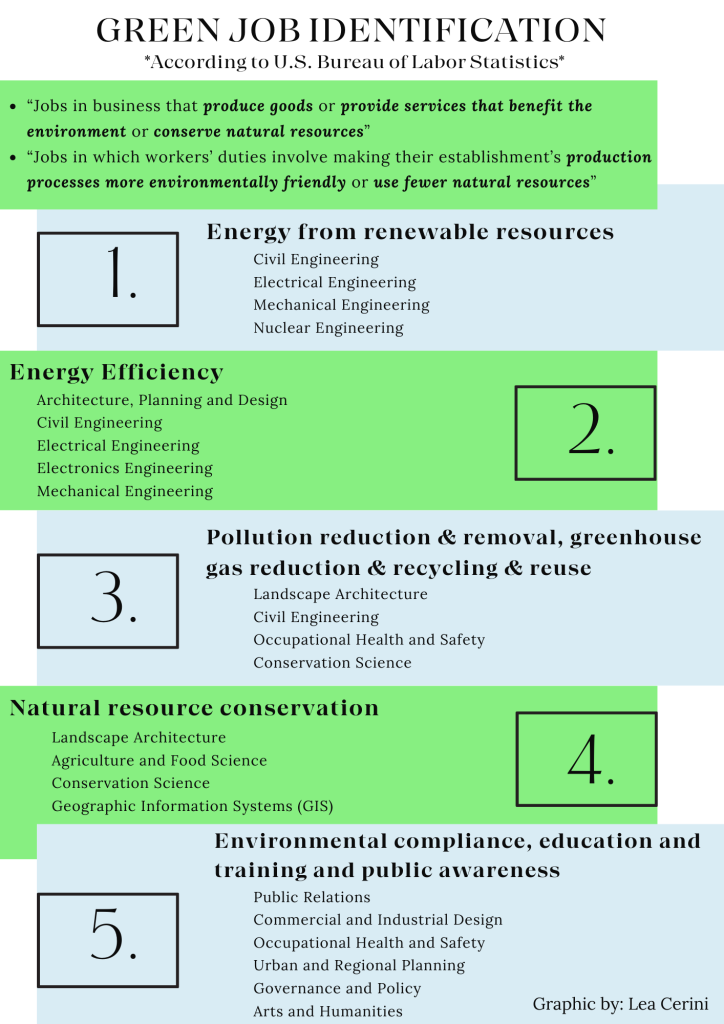 For information on how to integrate sustainability into your career, listen to the podcast "Work Your Values: How to Be Sustainable in any Career" by the Rutgers Office of Climate Action. Each podcast episode is an interview with a professional that has incorporated sustainability into their professional career in a unique way. The first episode interviews Dr. Kevin Lyons of Rutgers University. He shares his fascinating journey in supply chain management and procurement to further environmentalism at Rutgers University.
The SEI Climate Corps® is a graduate fellowship program that trains students and pairs them with public institutions and companies that are passionate about sustainability. Fellows of the program have the opportunity to work on innovative projects within prominent companies such as Bank of America, Adidas and AT&T. The New Jersey Climate Change Resource Center and Rutgers also organize a Climate Corps cohort of graduate students in the fields of natural sciences, public policy, engineering, and community planning which are involved in the Rutgers Coastal Climate Risk and Resilience (C2R2) program to assess ever-changing climate risks.
To find open job and internship positions related to sustainability, you can start your search on Rutgers Handshake. To filter the available positions to find green jobs, try setting your career community preferences to the "Environmental and Sustainability" Handshake community. Sustainability-focused job boards such as Climatebase, Green Jobs Board, and Idealist also offer many opportunities to work in this field.
Finally, the Rutgers Green Job Fair on February 13th, 2024 will be a great opportunity to meet directly with employers who are hiring for positions related to climate action and sustainability across a wide range of fields. Ann Tracy, the Chief Sustainability Officer of Colgate and Peter McGuinness, President and Chief Executive Officer of Impossible Foods will kick off the event with a keynote presentation and Q&A regarding sustainability in industry. We hope to see you there and wish you luck on your green job search!